Mark Dunning
Bioinformatics Training Coordinator @ Cancer Research Uk Cambridge Institute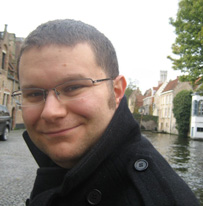 About me
My job title is "Bioinformatics Training Coordinator" and I work in the Bioinformatics Core of Cancer Research Uk Cambridge Institute. I organise, develop and facilitate Bioinformatics training courses to teach computational and analytical skills to wet-lab biologists. All courses that I develop are available through github and I have collaborations with Thomas Carroll at the Bioinformatics Core, MRC Clinical Sciences Centre and Bioinformatics Training Facility at the Univesity of Cambridge.
Previously, I worked as a Bioinformatics Analyst within the Bioinformatics Core; consulting on, and assisting in, the analysis on all types of high-throughput datasets. During this time I worked on studies to define subtypes of Breast and Prostate cancer and established pipelines for analysis whole-genome and exome resequencing data.
I obtained my PhD in the Statistics and Computational Biology group of Simon Tavare at the University of Cambridge. During this time, I developed the beadarray Bioconductor package for the analysis of Illumina microarray data. My PhD thesis is available online, should you be interested.
Moving on
I'm delighted to announce that from October 2017 I will be returning to Yorkshire to take up the position of Bioinformatcs Core Director at [The University of Sheffield}(https://www.sheffield.ac.uk/) :tada: You can follow updates on the Sheffield Bioinformatics Core website.